에어 히터 FAN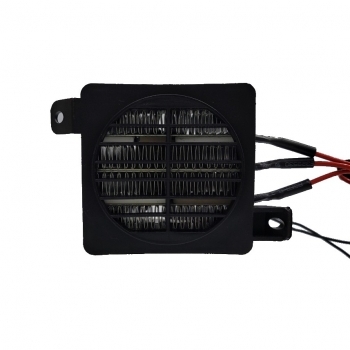 PTC히터팬 6*6-150W, AC 220V
목록보기
상품상세보기
절연 매립형 PTC히터팬 사각 열풍기
<사 양>
전 원(V): AC 220V
소비전력(W): 150W
온도과승방지장치: 있음(Bimetal Thermostat)
채택팬(FAN): 60×60mm 사각팬
무게(Weight): 130g
<용 도>
· 온도유지, 습기제거
· 농수산물 건조
· 동파방지
Specification of 220V/150W Air Heating Element
A.Dimension
1.Appearance Dimension:86(60)×60×25.6(heater holder)mm
2.Mounting Hole Distance:78mm
3.Mounting Hole Size
:
ϕ
4mm
4.Heater Holder Material : PPS
B.Technical Parameters(Testing Environment:R=24℃)
1.Rated Voltage:220V
2.Power Consumption:150W ±15%
(at the installed 60x60mm 12V fan)
3.Heater Withstanding Voltage:<360V
4.Heater Inrush Current:<1.7A
5.Inrush Power:<370W
6.Temperature of PTC chips:260℃±10℃
7.Temperature of PTC Heater without wind:230℃±10℃
8.Wind Temperature:>50℃(1cm from the heater surface)
>45℃(5cm from the heater surface)
>40℃(10cm from the heater surface)
C.Others
1. The heater has 2 wires, and the input voltage is 220V(AC);
2. The wires used in the heater are high temperature resistant silicone
wires with a temperature resistance >200 °C.
3. The product uses a conductive PTC heater, so the metal part of the
heater is not insulated.
4. Due to the temperature limit of the fan, the heater is suitable for use
in the ambient temperature of -5 °C ~ 65 °C.
5. The heater is expected to operate for 5000 hours and the power
attenuation is less than 20%.